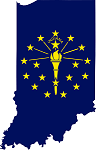 INDIANA – Indiana is growing, adding nearly 32-thousand people last year to reach a population of 6-point-7-million.
The increase was the state's biggest since 2009, outpacing every neighboring state. But it was well below the level of growth seen during much of the 1990s and early 2000s, says Matt Kinghorn with the Indiana Business Research Center at the I-U Kelly School of Business.
The center says "natural" increase–meaning the number of births minus the number of deaths–is the main driver of growth in Indiana. But the report says that's having less impact as the state's population ages–and the number of births in Indiana has declined dramatically in the last ten years.