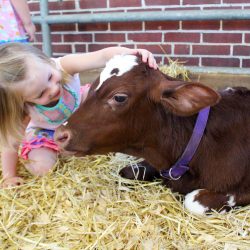 INDIANA — Thinking of going to the State Fair? If your timing is right, you can get in Wednesday for FREE.
The Indiana State Fair is offering FREE gate admission from 9 AM to 3 PM on Wednesday, Aug. 14.
The offer is "in honor of all of our Heroes of the Field, our Hoosier Farmers," the State Fair said Tuesday.
Wednesday is Farmers' Day at the Fair. Shuttle rides are free for anyone 55 and older.
The Indiana State Fair runs through Sunday, Aug. 18 at the Indiana State Fairgrounds.
photo courtesy Indiana State Fair