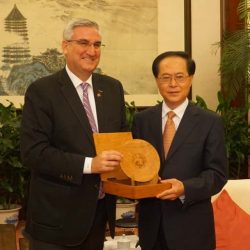 INDIANAPOLIS – Governor Holcomb says his first trade visit to China was productive — despite coming in the middle of a trade war.
President Trump says negotiators are near an agreement, though they're still finalizing details. Holcomb's five-day swing through Beijing, Hangzhou and Shanghai came while tariffs and boycott threats were still flying. The governor says trade "turbulence" is par for the course when old agreements are outpaced by technological innovation.
Holcomb says Indiana is "leaning in" to its export markets, even as other governors postponed trips because of the trade tensions.
The governor says even two weeks ago during his visit, Chinese leaders were issuing optimistic statements about reaching a deal.
Holcomb's visit included meetings with the Chinese parent companies of two Indiana factories: Westfield Outdoors in Indianapolis and B-W-I in Greenfield.
photo:
Secretary Che Jun of Zhejiang Province reaffirms the 32-year sister state relationship with Gov Eric Holcomb in China
Photo courtesy Gov Eric Holcomb Facebook page.