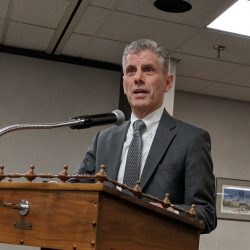 VIGO COUNTY, Ind – At Monday nights Vigo County School Board meeting the board voted on a new Superintendent and his contract but not before board member Paul Lockhart said that the process could have been better. He said that several groups were left out of the process and board member Mel Burks agreed.
Here are their full comments at the board meeting.
Lockhart said that he had nothing against Dr Robert Haworth and voted for him.
Board Member Mel Burkes had also previously expressed concerns in the process but also voice support for Dr Haworth and voted for him making it unanimous.
Dr Haworth starts his new job on July 1st and said that he is looking forward to getting started and he also talked about the process and that he would have liked to have talked to everyone.
Vigo County School Board takes vote on new superintendent