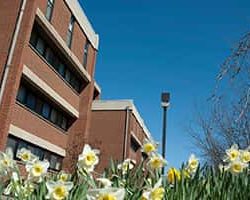 TERRE HAUTE, Ind – Indiana State University's Board of Trustees on Friday approved the demolition of the Lincoln Quad Complex after the current academic year. 
Diann McKee, Senior Vice President of Finance said in a press release that the "50-year-old residence hall, while carefully and routinely maintained, does not make financial sense because of the challenges involved in maintenance and operation of the aging facility"
McKee told Trustees that in the past decade, "We have added approximately 979 beds to housing inventory, and in that same period of time, there has also been the development of private student housing surrounding campus. So the demand for Lincoln Quad has been significantly reduced." 
McKee added that Lincoln Quad has 768 beds. Green space and perhaps some parking could replace Lincoln Quad.
Andy Morgan, Interim Vice President of Student Affairs said that the university will be working with Greek groups that have space in Lincoln Quad to find a new location.
photo courtesy ISU