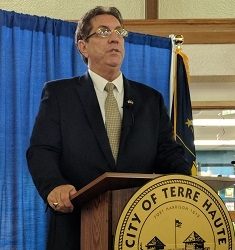 TERRE HAUTE, Ind – On Tuesday Terre Haute Mayor Duke Bennett gave his annual "State Of The City " speech at the Vigo County Public Library.
The speech lasted about an hour and fifteen minutes and in that time the Mayor discussed the city's finances, city services, convention center, what we need to do to move forward, and more.
Click the link below to listen to the complete speech.