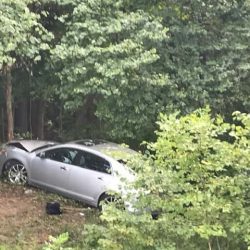 CLAY COUNTY, Ind – Thursday (8/15/19) afternoon around 1:30 p.m., Indiana State Police were called to a single vehicle fatal crash on Interstate 70 near the 18 mile marker eastbound.
Troopers say that a car was driven by Daryl W. Duhrkoff, of Portage, Michigan,
His passenger, Shirley R. Lively, also of Portage, Michigan, told officers that she spoke to him and he didn't respond.
She said that when she looked at Duhrkoff, he was not acting normal and had a blank stare. 
The vehicle began to drift off of the roadway through the grassy median, and across both eastbound lanes of Interstate 70 and eventually stopped when the car hit the wood line on the south side of Interstate 70. 
First responders were unable to revive him and he was pronounced dead at the scene.
Lively was transported to a local hospital with non-life threatening injuries.
Drugs and alcohol are not believed to a contributing factor of the accident.
An autopsy is scheduled for Friday at Regional Hospital.