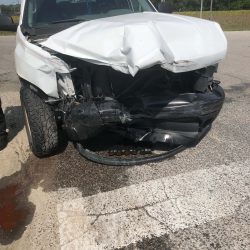 VERMILLIN COUNTY , Ind – Vermillion County Deputies were called to a two vehicle accident Tuesday just after noon at the intersection of SR 63 and First Street in Fairview. 
Police say that 26 year old Amanda Grimm of Terre Haute was southbound SR 63 in a mini-van when she was struck in the driver's side by a pickup driven by 50 year old Daniel Mohr of Thorntown, Indiana. 
Mohr told officers that he did not see Grimm as he tried to cross the highway to return to South Vermillion High School where he was working.  Mohr was working for Electric Plus of Avon and the vehicle he was driving belonged to the company.
Police say that Mohr was at fault in the accident, however a license check showed that Grimm was driving on a suspended Indiana Driver's License with a prior conviction, and was cited for the same.
Grimm was taken to Union Hospital Clinton and treated.