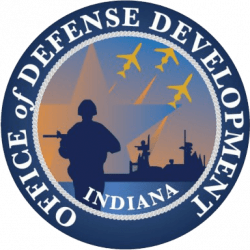 INDIANAPOLIS – Indiana's agency for pursuing defense contractors has a new structure and a new leader:
Then-Governor Mike Pence created the Office of Defense Development six years ago. Governor Holcomb is making it a division of the Indiana Economic Development Corporation, the state's main economic development agency.
Commerce Secretary Jim Schellinger says the move combines the defense office's technical knowledge with his agency's marketing know-how. He says Indiana has 10 military installations and more than 700 defense contractors, yet ranks in the middle of the pack in defense spending.
The defense office also has a new leader, National Guard Major General Clif Tooley. He replaces Danielle Chrysler, who's been called up to active duty in the Middle East and won't return home till next summer. The Economic Development Corporation says she was supportive of making sure the office can continue functioning while she's overseas, and says the I-E-D-C "looks forward to her rejoining this growing team following her service."
The Aerospace Industries Association says Indiana has more than 29-thousand defense jobs, but says that figure shrank by nearly one-eighth between 2012 and 2017.