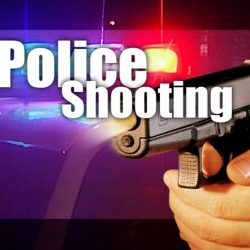 CLINTON, Ind – Indiana State Police are investigating an officer involved shooting that happened Saturday night in Clinton.
The preliminary investigation shows that just after 9 p.m. Saturday night night (3/16/19) Vermillion County Dispatch received two separate 911 calls of a possible intoxicated driver. The subject was reported as traveling eastbound on Hazelbluff Road just east of State Road 63. 
A Clinton City Police Officer responded to the area, and located the suspect vehicle, a pickup truck, traveling towards him. The officer stopped his police vehicle on Hazelbluff Road, with all emergency lights activated.  The officer attempted to exit his vehicle when the subject continued driving towards the police vehicle, pinning the officer against the car.  The officer then pulled out his duty weapon and shot at the driver, hitting him. 
Upon the arrival of the Vermillion County EMS, the officer was freed from between the vehicles, and first aid was immediately administered to the subject and the police officer.
The subject was taken to Union Hospital Clinton, where he was then flown to Methodist hospital in Indianapolis.  
The Clinton City police officer was also transported to the Union Hospital Clinton where he was treated and released. 
The investigation is being conducted by Indiana State Police at the request of Clinton City Police Chief Billy MacLaren.