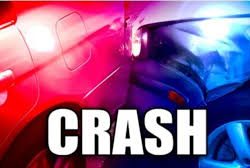 VIGO COUNTY, Ind. – One person was sent to the hospital after a Saturday night crash.
Emergency crews said the driver didn't see a semi before crashing into it around 11 p.m. on Rosedale Road in northern Vigo County.
Apparently the driver of the car didn't notice the flatbed semi truck backing up into a nearby driveway.
Three people were reportedly in the car and one was sent to the hospital for treatment.
The driver of the vehicle that struck the trailer was arrested for driving under the influence of alcohol.