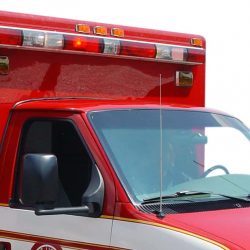 VIGO COUNTY, Ind – Saturday morning (10/12/19) around 8:30 a.m. Vigo County Sheriff's Deputies responded to a vehicle-pedestrian accident on U.S. Highway 41 near Evans Av in front of North Pines Trailer Court where vendors were set up for the Covered Bridge Festival.
The driver of the vehicle, and a witness at the scene, told police that the pedestrian walked out in front of the vehicle which was unable to avoid the collision.
Chemical tests conducted on the driver of the vehicle at Regional Hospital were negative for drugs and alcohol. Life saving measures were attempted at the scene including CPR by an off-duty firefighter and an AED administered by the responding deputy.
The victim was flown to Regional Hospital by Lifeline, but did not survive her injuries.
The name of the victim has not yet been released.