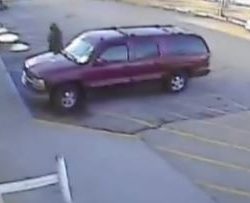 TERRE HAUTE, Ind – Terre Haute Police say that the person in this video allegedly stole the SUV off of the parking lot of Dollar General at 1168 Lafayette Ave on Sunday February 24th, 2019 at around 5:30 pm.
Officers say that the vehicle was occupied by a 5 and 6 year old at the time of the theft.
On the way to the call, officers found the vehicle, however the suspect had already fled.
The vehicle was recovered and the children were unharmed.
Anyone with information about this individual's whereabouts or identity is asked to call Detective Trey Gilbert at 812-244-2626.