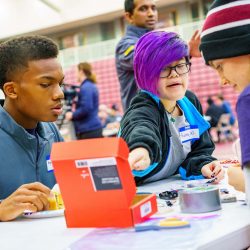 TERRE HAUTE, Ind. (Feb. 13, 2019) — Rose-Hulman Institute of Technology hopes to spark college and high school students into becoming future space explorers and innovators through a fun-filled day of design projects and other activities March 16, from noon to 5 p.m., in the institute's Sports and Recreation Center.
The free event, called SPARK (Student Projects Advocating Resourceful Knowledge), has been organized by Rose-Hulman's Building Undergraduate Diversity (RoseBUD) program, with support from Ford Motor Company, Halliburton and ArcelorMittal. It strives to promote growth for students in innovation and creative design through the use of teamwork, networking, and mentorship in an exciting and challenging environment.
Students wishing to participate must register online at http://bit.ly/244pQpY by March 9.
This year's activities will have teams of Rose-Hulman and high school students participating in hands-on activities centered around going to space. Team-building projects will have the students getting to know about each other and their design skills before working together on the space-related group activities.
"We want to get students excited about engineering, design and teamwork. These students could become the engineers, scientists and mathematicians who return us to the moon along with exploring Mars and other areas of our universe," said RoseBUD mentor Carlotta Berry, associate professor of electrical and computer engineering.
Besides the design competition, there will be an introduction to creative design practices and discussions with Rose-Hulman professors and alumni about careers in science, engineering and mathematics. Special guests will include 2006 Rose-Hulman computer engineering alumnus Shawn Hymel, a former SparkFun Engineering Superhero.
Lunch and snacks will be served to all participants.
Teams with the best technical and creative designs, as determined by guest judges, will win prizes provided by the corporate sponsors and the RoseBUD program.
The RoseBUD program is designed to encourage more students towards careers in science, technology, engineering, and mathematics, as Rose-Hulman continues to seek ways to broaden diversity among students studying those topics.