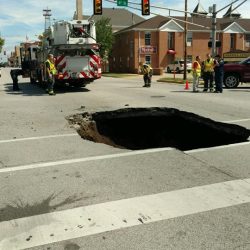 TERRE HAUTE, Ind – Terre Haute officials say repairing a 20-foot-deep sinkhole will keep the intersection at 4th and Ohio closed for a week or more.
City Engineer Chuck Ennis says that with good weather, the intersection  will reopen in seven to 10 days.
Ennis said the sinkhole resulted that was large enough to swallow a full-size car, was the result of a sewer leak that slowly eroded the soil around it.
The sinkhole opened-up after a fire ladder truck drove over it.
Ennis says sinkholes occur occasionally because of its more than century-old sewer lines.