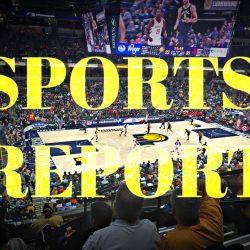 Sports Report
In tonight's high school girls' basketball action around the Wabash Valley: The West Vigo Vikings will host Owen Valley at 7:30 pm. North Putnam will take on South Vermillion at home at the same time. Greencastle will head to Crawfordsville at 7:30 p.m. for their game tonight, while Shakamak stays home to take on Bloomfield at the same time. Riverton Parke stays home to play Covington at 7:30 p.m., while Rockville, North Vermillion, and Turkey Run get the night off. The Northview Knights boy's basketball team will host North Central tonight at 7:30 p.m. You can catch the game on LITE 92.7 WFNB.
In the NFL's Monday Night Football match-up, the Atlanta Falcons traveled to take on the Seahawks in Seattle. Fans in attendance got their money's worth as this game came down to a last second Blair Walsh 52-yard field goal that fell just short of the crossbar. Seattle was down just three when Russell Wilson led the team on a nine-play drive that resulted in the missed field goal. Wilson finished with 258 yards, two touchdowns and one pick for the Seahawks, while Matt Ryan finished with 195 yards, two touchdowns and no picks. The Falcons are now (6 – 4) overall while the Seahawks fall to the same record.
The Indiana Pacers traveled to Orlando to take on the Magic last night, as the team continued their winning ways with a 105 – 97 downing of the Magic. Victor Oladipo had a stellar night for the Pacers, finishing with 29 points, 9 boards, and 5 assists. Nikola Vucevic mustered up 25 points and 13 boards for Orlando who was simply outmatched. The Pacers are now (10 – 8), while the Magic fall to (8 – 9).