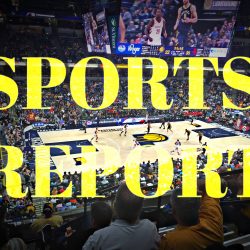 Love it or hate it, Paul George is making his return to Banker's Life Fieldhouse tonight as the Indiana Pacers take on Russell Westbrook and the Thunder at 7 p.m. Paul George was traded over the offseason in a trade that sent back guard Victor Oladipo to Indiana. Things have worked out well for the Pacers thus far, who stand at (16 – 11), but not quite for the Thunder who are (12 – 14). Catch the game on 1130 AM & 99.5 WAMB.
Here are the scores from high school basketball around the Wabash Valley last night:  For the girls, Terre Haute South hosted Indianapolis Arsenal – that score has not yet been reported, Shakamak lost to Sullivan 70 – 37, West Vigo beat Turkey Run 49 – 29, and South Vermillion beat Covington to the score of 62 – 52, thanks for listening to the game on 104.9 WAXI. Finally, for the girls, Northview beat Terre Haute North to the score of 38 – 36 on LITE 92.7 WFNB, your home for the Northview Knights. On the boys' side of things, South Putnam lost at Cloverdale last night to the score of 72 – 53, while other teams had the night off, as they do again tonight.
The NFC North division of the NFL has been out on notice, Aaron Rodgers is back and ready to suit up to play for Green Bay Sunday against the Carolina Panthers as the team looks to stay in playoff contention. Rodgers was sidelined with a broken right collarbone after a hit from Minnesota Vikings' linebacker Anthony Barr in week six. The Packers have their work cut out for them to sneak into the playoffs, at (7 – 6) overall, they are in third place in the NFC North division behind Detroit and Minnesota. Green Bay has lost to Detroit and Minnesota already once this year, and will play both teams once more.