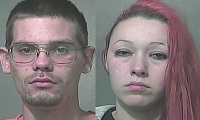 VIGO COUNTY, Ind – Two people facing charges in connection with the murder of a Vigo County man were sentenced this morning in court.
Matt Luecking was killed at his apartment at the Village Quarter on Oct. 24, 2016.
26-year-old John Collins, was sentenced to 60 years in prison after pleading guilty to murder, robbery, burglary and to stealing Luecking's car after the murder.
27-year-old Kathleen Featherstone was sentenced to 30 years for robbery and burglary and criminal trespass. A murder charge against her was dismissed.
48-year-old Donald Featherstone is a third defendant in the case.
He will be sentenced April 4th after pleading guilty to murder.