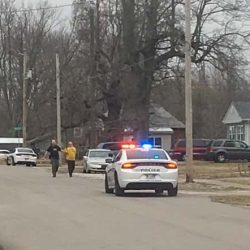 UPDATE:  Just before 6:45 p.m. Bryan Hutcheson  surrendered peacfully to police and was taken into custody.
BRAZIL, Ind- Police in Brazil on the scene of a stand off at 403 West Halbert which is about one block north of Hendricks and Depot Streets on the northwest side of town.
Brazil Police received a tip that 38 year old Bryan Hutcheson was in the home.
Police on scene said he was wanted on a warrant for assault with a deadly weapon in Georgia.
The Terre Haute Special Response Team was called in to help Brazil City Police persuade Hutcheson to surrender.
A total of three people eventually did surrender to police and have been taken into custody.
Brazil Police Chief Clint McQueen said that his officers have cleared the area and are keeping people away.
Brazil City Assistant Police Chief Dennis Archer was interviewed on scene: