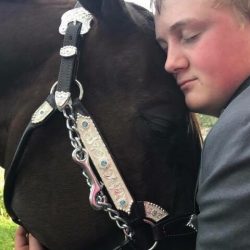 PUTNAM COUNTY, Ind.—Police are investigating the killing of two horses in Putnam County earlier this month.
The Putnam County Sheriff says someone shot and killed both horses on a farm on North US Highway 231 in Bainbridge on July 1st.
Kat was a 6-year-old mare that belonged to Karen Phillips' 15-year-old son Ryan.
Mama was a 22-year-old mare who was retired from a reining career.
They were both going to be shown later this month at the Putnam County Fair.
Now a $5,000 reward is being offered to anyone with information leading to an arrest.
Police are not sure if this was a random killing or if the horses were singled out.
Anyone with information on the person responsible should contact the Putnam County Sheriff's Office at 765-653-3211.
A GoFundMe page has been set up to raise money for the reward leading to the arrest of those responsible.