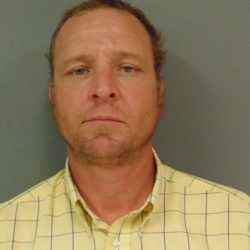 VERMILLION COUNTY, Ind – Last Friday (10/5/18) Vermillion County Deputies received a tip about a person trying to buy a motorcycle off Craig's list.  The person selling the motorcycle contacted authorities about the suspect offering 3 pounds of marijuana and $2,000 for the bike.  Deputies monitored conversations between the two and identified a possible suspect.
After multiple conversations the suspect indicated he would be in the Clinton Walmart parking lot around 3:00 P.M.  Several officers set up surveillance on the area and located the suspect.
By 4:30 P.M. officers arrested 37-year-old Charles Kelley of California, in the Tractor Supply parking lot.  He was found to be in possession of approximately 3 pounds of marijuana, 7 grams of suspected methamphetamine, cash and drug paraphernalia.
Kelley was arrested on multiple felony charges and is currently being held at the Vermillion County Jail with bond set at $15,000.