TERRE HAUTE, Ind.  – The Terre Haute Police Department is investigating a homicide on Terre Haute's east side.
Officers were called to a shooting on Heritage Drive near the intersection of Poplar Street and Brown Avenue just before 9:00 Friday morning,
Police said officers were called to Regional Hospital around 5:00 a.m. for a man with gunshot wounds and that in the beginning of their investigation they were told the shooting happened at a different location.
When officers arrived on Heritage Drive, they found three young children, and another adult male victim in the house. Police said there was also a man with a gun still at the house.
Officers arrested 36 year old Durend Randall, 36, on charges of murder and aggravated battery.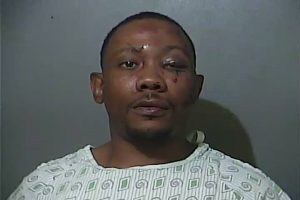 Jail records indicate that he is set to appear in court on Tuesday (11/12/19).
Randall has been booked into the Vigo County Jail six times previously on various charges including robbery and several counts of battery.
The victim has now been identified as 26-year-old Evan Persching.
Autopsy results show that he died to multiple gunshot wounds to the chest.