INDIANAPOLIS – A proposal in the state Senate would do away with primaries for U-S Senate.
Until 1976, Indiana nominated Senate candidates at the state party conventions. But starting with Democrat Evan Bayh's retirement in 2010, Republicans have fought fierce primary battles in the last four U-S Senate elections. Kokomo State Senator Jim Buck (R) says he's been dismayed by the big spending by outside groups in those races, and says it's time to go back to the convention method.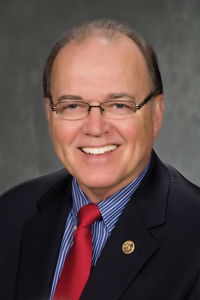 Buck maintains the 17th Amendment, providing for direct election of senators, came about because people believed the old system of having state legislatures choose them had become corrupt. He argues today's PAC-fueled air wars have created the same perception. He says as a veteran of several state conventions, he's confident delegates wouldn't be swayed by big money.
A handful of states use conventions in the nominating process. Virginia lets the parties decide whether to use a primary or a convention, with conventions almost always winning out. Utah nominates Senate candidates at the convention, using a primary as a backup if no candidate gets a 60-percent supermajority. Iowa does a similar two-step in reverse: the convention is the backup if no one gets 35-percent in the primary.
While Buck's suggestion to go back to the future received a Senate committee hearing, it appears unlikely to go any further. House Speaker Brian Bosma says he doesn't believe there's much support for taking that choice away from voters. And committee members from both parties expressed skepticism as well. Salem Senator Erin Houchin (R) notes she's seen the effect of big spending to sway elections firsthand. She lost a congressional primary to now-Representative Trey Hollingsworth in which a super PAC poured money into the race to promote Hollingsworth and attack her. But Houchin says a convention would only shift where the money goes. She says she's not comfortable with taking the vote away from more than 800-thousand primary voters and giving it to 17-hundred delegates.
State Senate Elections Chairman Greg Walker (R-Columbus) says he doesn't plan to call the bill for a vote unless Buck generates a groundswell of support for it.
Indiana still uses its conventions to choose the nominees for lieutenant governor, attorney general, secretary of state, treasurer and auditor.
Image by amberzen from Pixabay