VIGO COUNTY, Ind – Indiana State Police report that they along with the Riley Fire Department were call out to handle a fuel spill Wednesday afternoon on I-70.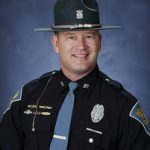 Public Information officer Matt Ames reports that a semi suffered a punctured saddle (fuel) tank and that caused a fuel spill in the west bound lanes at the 13.5 mile marker.
All lanes remained opened but traffic was slowed as the full spill was cleaned up.