SAN JUAN, Puarto Rico. — A plea deal for the grandfather from South Bend who dropped his granddaughter off a cruise ship in Puerto Rico.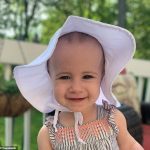 Chloe Wiegand died when she slipped from the grasp of her grandfather, Sam Anello, and fell out an open window of the ship. Anello's lawyers have agreed he will plead guilty to negligent homicide charges, but he will only be sentenced to probation.
That puts an end to the criminal aspect of things, but the Wiegand family is suing Royal Caribbean saying the window was not adequately marked to indicate it was open. The cruise line says Anello was reckless.