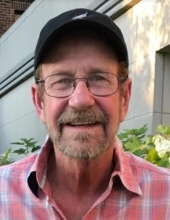 James D. Lawson, 66, of Freedom, Indiana passed away at home, with his family by his side, on May 28, 2020 following a battle with cancer.
Jim was born on July 2, 1953, in Clay County, Indiana the son of William and Doris Mae (Starr) Lawson. He graduated from Van Buren High School with the class of 1971 and then from Indiana State University with a BS degree in education. From a young age Jim and his brother Ron learned the welding trade from their grandfather "Foxy" Lawson. This led to Jim's long career as a Welding and CNC Machining Instructor at Ivy Tech University retiring after 32 years of teaching.
Besides teaching, his passion was pinstriping and design and working at motorcycle and car shows. Jim enjoyed fishing and spending time outdoors. He especially enjoyed spending time with his grandchildren. Many memories were made with Jim teasing and joking with the family – especially the grandchildren. He also enjoyed working on and caring for their property, "Hummingbird Hill", in Freedom.
He was preceded in death by his parents William and Doris Lawson and a brother Ron Lawson.
He is survived by his wife Jonamay "Joni" Lambert Lawson; son Jeremy Lawson (Jarrod) of Chicago; daughter Jennifer Vanatti (Brent); step-son Jonathan Grzelak of Chicago, step-daughter Cassondra Grzelak of Brazil; grandchildren: Cohen Vanatti, Kloee Vanatti, Kadyn Vanatti, Lylah Grzelak, and Madalynn Hoffman; brother Mike Lawson, a sister Janet Eaglin (Brad); sister-in-law Debbie Lawson as well as several nieces, nephews and extended family members and friends.
Donations may be made in Jim's memory to Riley Children's Hospital 705 Riley Hospital Dr. Indianapolis, IN, 46202.
Visit www.frenchfuneralhome.com to share a memory.
To send flowers to the family of James D. Lawson please visit the Tribute Store.