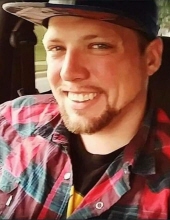 Levi Michael Dotson, 34, of Brazil, Indiana went home to be with the Lord, on June 26, 2020 following a vehicle accident in Putnam County.
Levi was born in St. Petersburg, Florida on March 21, 1986 the son of Jacqueline Rominger and Brian Dotson. Levi graduated from Robinson High School with the class of 2005. Following high school he enrolled in Ivy Tech for Autobody training. He had been working at Gibault Children Services, Clay County Justice Center, Hamilton Center, Indiana State University, and most recently Phoenix Closures.
Levi loved spending time with friends and family. He loved life to the fullest always giving of himself and helping anyone who needed him. Levi had an contagious smile and lit up a room when entering making his way around the room to hug anyone in his reach. His heart was gold and his actions true. He had faith in the Lord and carried his faith throughout his life. He was loved by all who had the pleasure of making his acquaintance. He loved people, outdoors, playing video games, his beloved motorcycle and Toyota Celica's, and Live Action Role Play.
Surviving a kidney transplant provided by his twin brother Logan, he was given 19 years that he would not have had if it weren't for this gift. Levi was known to say "Love You and be safe" as he would leave…… because it's not the finality of "goodbye" it is I will see you later.
Levi was a member of the Trimble Bible Church in Trimble, Illinois, Patriot Guards, Shadow Asylum, Storm Crest, Saracen Outlaws, and was active in Clay and Putnam Playhouses.
Levi was preceded in death by his maternal grandfather, paternal grandfather, and a sister Crystal Sullivan.
Levi is survived by his mother Jacqueline Rominger and husband William Barnett of Brazil; his father Brian Dotson of Worthington; 4 brothers: his twin brother Logan Dotson of Brazil, Hezekiah Dotson and wife Heidi of Greencastle, Avery Dotson of Brazil, and James Denny and wife Tambi of Lyons; a girlfriend Esther King; biological father Jim Denny of Lyons; grandmothers: Jackie Dotson of Worthington and Mary McCarty of Shepardsville, Kentucky; 8 nieces and 5 nephews; step-sister Cassey Martin (Tony) of Brazil; step-brother Trei Barnett (Heather) of Indianapolis; step-grandmother Ruby Barnett of Brazil, as well as many aunts, uncles and extended family members and a host of friends.
Visitation will be at Lawson – Miller Chapel, 1702 E. National Ave. Brazil, Indiana 47834 on Tuesday, June 30, 2020 from 4-8pm and again, on Wednesday, from 10am until time of services. Services will be at the funeral home, on Wednesday, at noon, with Pastor Paul Zurcher officiating. Burial will follow at Croy's Creek Cemetery. Visit www.frenchfuneralhome.com to share a memory.
To send flowers to the family of Levi Michael Dotson please visit the Tribute Store.