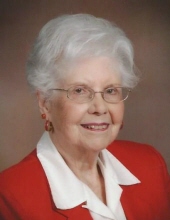 Nina Lucille (Mahan) Lorey, 91, of Terre Haute, passed away Monday, June 29, 2020 at Davis Gardens. She was born July 28, 1928 in Terre Haute to Clarence and Alma (Johnson) Mahan.
Nina was a 1946 graduate of Garfield High School and a graduate of Indiana State Teacher's College where she received her bachelor's degree. Later on she continued her education earning her master's degree from Indiana State University. Nina was a teacher for most of her life including Vigo County Schools where she taught as a 3rd grade teacher at Terre Town Elementary School from 1969 until 1991. She enjoyed going to all the Retired Teacher's luncheons. Nina was a member at Maple Avenue Methodist church for many years, until she transferred her membership to Memorial United Methodist church. She loved spending time with her family, especially her grandchildren, working in her yard, collecting elephants, making baby quilts and putting jigsaw puzzles together. She was also an avid reader and crossword puzzle solver. Nina always had a beautiful smile that would light up a room.
Survivors include three children, Kurt Lorey and his wife, Karen of Indianapolis, Marc Lorey and his wife, Dawn of Terre Haute and Janna (Lorey) Klug and her husband, Dan of Terre Haute; a daughter-in-law, Janice Lorey of Terre Haute; 10 grandchildren, Heather Lorey, Matthew Lorey, Patrick Lorey, Elaine Lorey, Rachel Lorey (Seth), Carson Lorey, Michael Lorey (Shelby), Nathan Lorey (Karley), Alexis Klug and Zachary Klug; six great-grandchildren; two nieces and two nephews. She was preceded in death by her husband of 59 years, Byron T. Lorey; a son, Thomas Lorey; her parents, Clarence and Alma Mahan; and two brothers, William Guy Mahan and George Leonard Mahan.
A visitation is scheduled from 4:00-6:00 PM on Wednesday, July 8, 2020 in Callahan & Hughes Funeral Home, 605 South 25th Street, followed by a Memorial Service at 6:00 PM with Reverend Tim Voll officiating. The family requests that memorial contributions may be made to Memorial United Methodist Church 2701 Poplar Street, Terre Haute, IN 47803. Funeral information and tributes may be found at www.callahanandhughes.com .
To send flowers in memory of Nina Lucille Mahan Lorey, visit the Tribute Store.