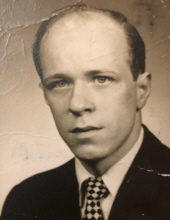 Raymond Richard Cronin, Jr., 84, of Terre Haute passed away Tuesday, July 7, 2020 in his residence. He was born January 15, 1936 in Hartford City, IN to Raymond Richard Cronin, Sr. and Martha Hall Cronin.
Survivors include his daughters, Tracy Cronin Hiquet (Brad), Kimberly Cronin Perigo (Joseph Perigo, Jr.), Stephanie Cronin Bindley (Paul), and Teri Cronin Davis (Karl); eight grandchildren; and seven great grandchildren. He was preceded in death by his wife of 60 years, Shirley Anne Mitchell Cronin; his parents; brother, Harley Joseph Cronin; and sister, Martha Sue Buell.
Raymond was a journalist for the Terre Haute Tribune Star and then the Lewis Newspaper in Lawrenceville, IL where he retired in 2001. He received the Editorial Excellence Award from the Illinois AP Editors Association. He was a U.S. Army veteran serving from 1954 – 1957. Raymond established the Miss Softball America program in Terre Haute and served as an administrator and coach. He was a member of the Brownsburg American Legion and was an avid Pittsburgh Pirates and college baseball fan, as well as an avid euchre player. Raymond leaves behind a legacy of honor, integrity, and family first value.
Private family memorial services will be held. Arrangements are under the direction of Callahan & Hughes Funeral Home, 605 South 25th Street. In lieu of flowers memorial contributions may be made to your local Senior Center or Senior Assistance Organization.
To send flowers in memory of Raymond Richard Cronin, Jr., visit the Tribute Store.