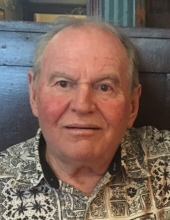 Thomas W. Farr, 75, of Terre Haute passed away Tuesday evening, July 14, 2020. He was born July 13, 1945 in San Antonio, TX to William Farr and Jean Spurrier Farr.
Survivors include his loving wife of 51 years, Julia Wassel Farr; his mother, Jean Farr of Terre Haute; and his daughter, Aymee Harvey (Scott) of Evansville, IN. Also surviving are brothers and sisters-in-law, Hilary Wassel (Janet), Regina Provencher (Jim), Wilfred Wassel (Brigitte), Quentin Wassel (Betsy), Albin Wassel (Nina), Rosemarie Campbell (Dwane), Tony Wassel and Peter Wassel (Mary); an aunt, Billie Repella; an uncle, Douglas Spurrier; and many nieces and nephews. He was preceded in death by his father.
Tom was a graduate of Gerstmeyer High School and attended Indiana State University. He served with the 181st Tactical Fighter Group of the Indiana Air National Guard for 23 years and had worked as a Land Surveyor. A true auto enthusiast, Tom enjoyed watching NASCAR, Drag Racing and was a Classic Car Owner. He also loved to hunt and fish and had been a member of Riley American Legion Post #328.
Funeral services will be conducted at 1:00 PM, Saturday, July 18, 2020 in Callahan & Hughes Funeral Home, 605 South 25th Street, with Father Fred Pasche, OFM Conv. officiating. Visitation will be prior to services on Saturday from 11:00 AM – 1:00 PM. Burial will be in Calvary Cemetery. Funeral information and tributes may be found at www.callahanandhughes.com.
To send flowers in memory of Thomas W. Farr, visit the Tribute Store.