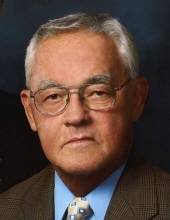 Robert Taube, M.D., 84, of Terre Haute passed away Wednesday, July 29, 2020, in Davis Gardens with his wife at his bedside. He was a well-known Surgeon in Terre Haute having practiced at both Union Hospital and Regional Hospital. Rob was born April 8, 1936, in Chicago, IL, to Fredrick Carl Taube, Sr. and Helen McKinnon Taube.
Survivors include wife of 57 1/2 loving years, Donna M. Friend Taube; children, Patrick Taube (Tina) and Ann Taube; grand-daughters, Nicole Taube and Alexis Taube. He was preceded in death by his parents; and a brother, Fredrick Carl Taube, Jr.
After high school graduation in La Grange, IL, Rob joined the U.S. Army, spending 18 months in Germany, in the tank corps. While in the tank corps he drove for the base commanding General and once had nine stars in his jeep including General Anthony McAuliff of "Nuts" fame at the Battle of the Bulge.After the Army, he attended the University of Illinois at Urbana where he earned a Bachelor of Science Degree in Microbiology in 1960. On December 22, 1962 Rob was married to Donna Friend. Continuing to pursue a medical career, he received his Medical Degree from the University of Illinois at Chicago in 1964 and his Surgical Residence was completed at Cook County Hospital, Chicago, in 1969. His fellowship at the Lahey Clinic, Boston, was finished in 1970.
Rob worked as assistant professor of surgery at the University of Iowa Hospitals from 1970 through 1973 and had a private surgical practice in Connersville, IN. from 1973 to 1979. Since 1979, Rob has practiced in Terre Haute, IN, performing the first laparoscopic gallbladder removal there in 1991. He fully retired in 2016.
His memberships include the Indiana State Medical Association, Fellow of The American College of Surgeons, Vigo County Medical Society, Downtown Rotary Club, Wabash Valley Scottish Society, and the Country Club of Terre Haute. Rob was an avid Chicago Cubs fan and led a Rotary Club trip to Wrigley Field for many years. He also loved golfing and enjoyed many rounds of golf with his friends.
Mass of Christian Burial will take place at 1:00 PM, Friday, August 7, 2020 in St. Patrick Catholic Church, 1807 Poplar Street, with Father Dan Bedel officiating. Visitation is scheduled for Thursday, Aug. 6th from 5:00-7:00 PM in Callahan & Hughes Funeral Home, 605 South 25th Street. At Rob's request, cremation will take place with burial in Partlow Cemetery, Armstrong, IL, at a later date. If friends should so desire memorial contributions may be made to The Salvation Army, 234 South 8th St., Terre Haute, IN 47807. Funeral information and tributes may be found at www.callahanandhughes.com.
To send flowers in memory of Robert Taube, M.D., visit the Tribute Store.