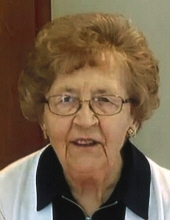 Dorothy Jean Wells, 90, of Brazil passed away peacefully at home with her family by her side. She was born in Brazil on August 22, 1929 to James Obie McMichael and Ruth V. (Willan) McMichael.
Dorothy was a 1947 graduate of Brazil High School. She was a retired nurse's aid and a devoted wife, mother and grandmother. She attended and was a member of St. John's United Church of Christ. She was a member of Swing Mates Square Dancing and The Homemaker's Club. She liked to garden and roses where her favorite. Also, she enjoyed camping, playing cards, baking and spending time with her grandkids.
Dorothy was preceded in death by her parents, James Obie McMichael and Ruth V. McMichael; her loving husband of 70 years, Robert Lee Wells who passed away on December 26, 2012; a brother, Morgan McMichael; and a granddaughter, Alicia Davis.
Survivors include a son, Ron Wells and wife, Karen; her daughter, Carol Olvera and her husband, Richard; grandchildren, Jamie Overton and husband, Aaron, Becky Siddons and husband, Jerry, Connie Reedy and husband, Kenny, Robin Richmond and husband, Shawn, Jonathan Andreas and Larry Davis and wife, Shannon; several great-grandchildren, 11 great-great-grandchildren; a brother, Everett McMichael; and several nieces and nephews.
Services and visitation are private. Burial will be in St. John's Cemetery. The family kindly requests that memorial contributions be made to: St. John's United Church of Christ, 3456 E. State Rd 42, Center Point, IN 47840, or to a charity of your choice. Arrangements are under the direction of French Funeral Home, 421 E. National Ave., Brazil. To send a message of condolences, visit: www.frenchfuneralhome.com.
To send flowers to the family of Dorothy Jean Wells please visit the Tribute Store.