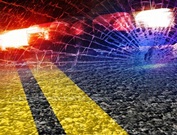 VIGO COUNTY, Ind – Law enforcement from Vigo County and the Federal Prison on the south side of Terre Hauate are looking for a hit and run driver.
A man driving a pickup truck hit a school bus on SR 63 near Springhill Drive and the prison. The driver fled the scene on foot.
Prison officials are involved because the accident involved prison property.
Vigo County School Corporation Communications Director Bill Riley said that there were a few students on the bus from Dixie Bee Elementary but no injuries were reported.
The students were transferred to another bus and taken home. Parents were notified immediately.