INDIANAPOLIS– President Trump has probably had the coronavirus for a few days without realizing it. An Indianapolis health leader knows firsthand.
Community Health Network executive vice president Ram Yeleti says people typically have the virus for two days to a week before developing symptoms — and 40-percent of those infected never develop symptoms. But they're still carriers, for up to 10 days. He says that's why masks are so important: not because they protect the wearer, although there may be a small benefit, but because they reduce the risk of transmission to others by 40-to-60-percent.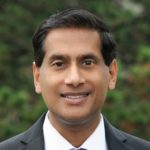 Yeleti tested positive for coronavirus in April after noticing a scratchy throat and cough, a day after another hospital executive's positive test. He says his symptoms didn't get any worse for a while, but after five-to-seven days, he got bowled over by severe fatigue that had him napping several times a day. It was another week after that before he fully recovered. His wife spent some time in intensive care.
While social distancing is important, Yeleti says just staying six feet away from someone who's not wearing a mask isn't enough by itself if you're going to be in prolonged contact. He says masks are a critical precaution to prevent the virus's transmission.
Democratic presidential nominee Joe Biden announced Friday he'd tested negative for the virus, three days after a chaotic 90-minute debate with Trump. Given the distance between the two candidates and moderator Chris Wallace, Yeleti says the chance Biden or Wallace may have contracted the virus on the debate stage is "not high, but not zero."
Yeleti says the virus may not show up the first time you get tested. If you know you were exposed to the virus, he says you should give it a few days and get tested again.