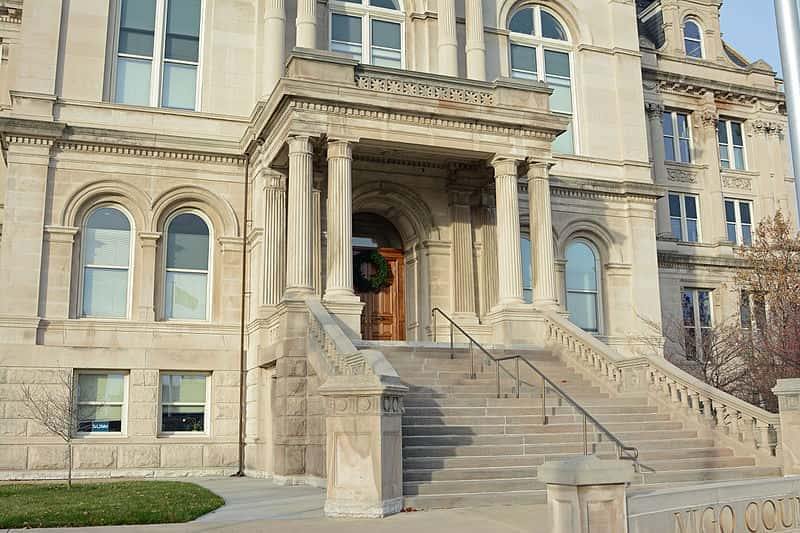 On Tuesday, October 6, 2020 the Vigo County Annex and Vigo County Courthouse will move from a closed to the public, by appointment to open with restrictions, appointments encouraged status. 
The following restrictions will be in place:  
Visitors to the Courthouse and Annex will be required to wear a mask at all times while in the buildings.
Visitors may be required to have a temperature scan and answer a series of questions upon entering the building.
The public entrance for the Annex is the NorthEastern door.  The public entrance for the Courthouse is the West entrance.  Both are manned by a sheriff deputy who will ensure compliance.
Visitors attending public meetings will be required to keep their mask on, unless speaking at a podium or as directed by the leader of the meeting.
All public meetings will have seating available that is spaced at least 6' apart from another seat, at any point.  This will reduce the normal amount of seating in our meeting rooms.   Seating will be on a first-come, first-served basis.  The leader of the meeting can include or remove attendees to ensure an effective meeting and that social distancing guidelines are adhered.     Seating priority will be provided to members of the press. One person per media agency will be allowed to attend the meetings.  It can be adjusted depending on circumstances.  
The courts will have a limited number of seats in the courtrooms.   Priority seating will be for people who are required to be in the courtroom.   
"Stand here" logos, consisting of the Vigo County Seal-9" in diameter, will be placed on the floor of each department public interaction zone.   Visitors will be required to stand at the designated spots.  If the spots are full, visitors will need to wait outside of the building or in a common area to ensure social distancing without obstructing hallways.
Appointments are highly encouraged.