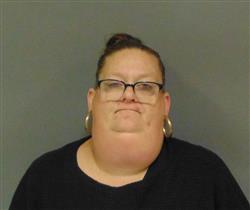 VERMILLION COUNTY, Ind – A Terre Haute woman was arrested in Vermillion County Sunday after a traffic stop on SR63.
40-year-old Sarah Lawson was found to have a suspended Indiana Driver's License with prior suspensions within 10 years.
K-9 Zeus alerted to the presence of narcotics in the vehicle and a search found a loaded syringe with suspected methamphetamine along with a small bag of suspected marijuana.
Lawson failed field sobriety tests on scene and refused any chemical tests but those were taken later after a search warrant was issued.
Lawson was booked into the Vermillion County Jail on the following charges:
Operating a Vehicle Under the Influence of Schedule I, II, III,or IV Controlled Substance
Possession of Methamphetamine
Unlawful Possession of a Syringe
Possession of Marijuana
Possession of Paraphernalia
Driving While Suspended (Prior)
Lawson is currently being held in the Vermillion County Jail on $10,000.00 bond (10% allowed).