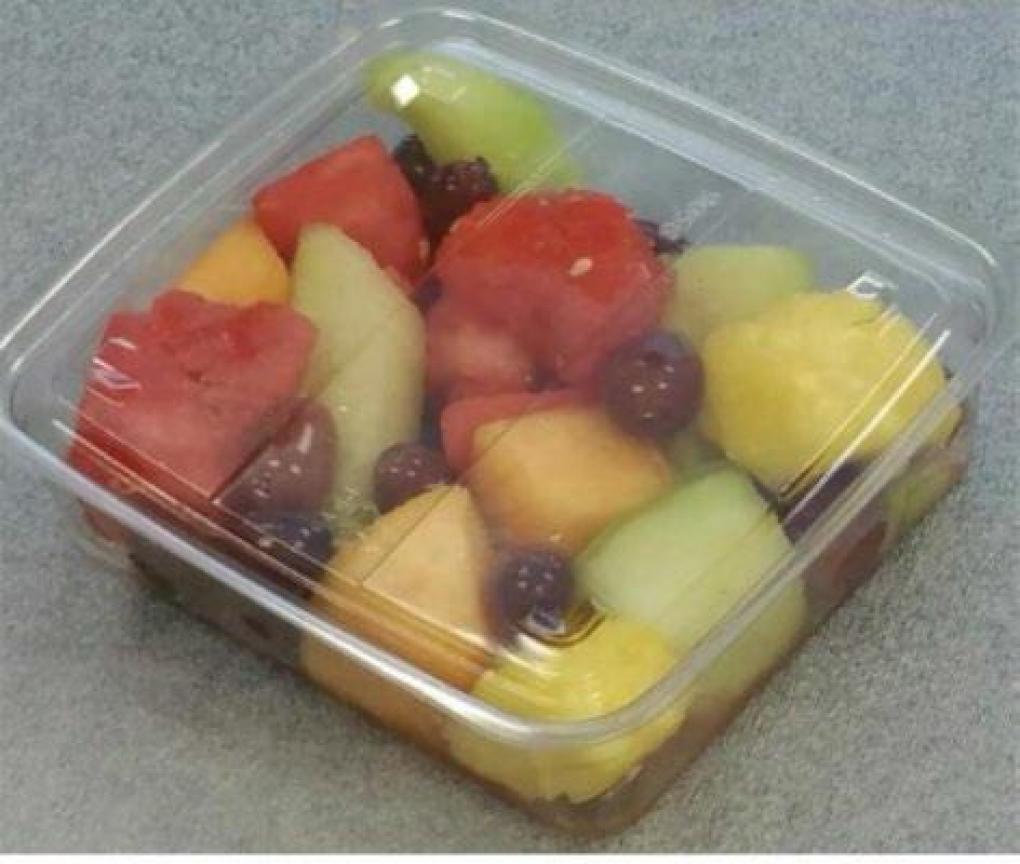 INDIANA  — Pre-cut fresh fruit sold at Walmart is being recalled over possible listeria contamination.
The recall includes various plastic containers of "Freshness Guaranteed" cut and/or sliced apples, grapes, mangoes, pineapples, and cantaloupe sold at Walmart stores in Indiana and other states.
The "best if used by" dates on the packages are between Oct. 3 and Oct. 11, 2020.
Listeria monocytogenes is an organism that can cause serious and sometimes fatal infections in young children, the elderly, and people with weakened immune systems. Symptoms include high fever, severe headache, stiffness, nausea, abdominal pain, and diarrhea.
Full information about the recall is available at www.fda.gov.
UPC
Item Description
Best if used by:
68113118012
APPLE GRAPE TRAY w/ CARMEL 2 lbs 10oz
10/7/2020
10/8/2020
–
68113118006
GREEN APPLE SLICES 32oz
10/8/2020
10/9/2020
10/10/2020
68113118007
MIXED APPLE SLICES 32oz
10/8/2020
10/9/2020
10/10/2020
68113118004
RED APPLE SLICES 14oz
10/10/2020
10/11/2020
–
68113118010
RED APPLE SLICES 32oz
10/8/2020
10/9/2020
–
68113118014
CANTALOUPE CHUNKS 10oz
10/3/2020
10/4/2020
10/5/2020
68113118015
CANTALOUPE CHUNKS 16oz
10/3/2020
10/4/2020
10/5/2020
68113118023
SEASONAL FRUIT TRAY 40oz
10/3/2020
10/4/2020
–
68113135509
SUMMER BLEND 5oz
10/3/2020
10/4/2020
–
68113135510
TROPICAL BLEND 5oz
10/3/2020
10/4/2020
–
68113118037
MANGO CHUNK 10oz
10/3/2020
10/4/2020
–
68113118038
MANGO SPEARS 16oz
10/4/2020
–
–
68113118039
PINEAPPLE GRAPE MANGO BLEND 16oz
10/3/2020
10/4/2020
10/5/2020
68113118042
PINEAPPLE CHUNKS 10oz
10/3/2020
–
–
68113118046
PINEAPPLE CHUNKS 16oz
10/4/2020
–
–
68113118043
PINEAPPLE CHUNKS 42oz
10/10/2020
10/11/2020
–
68113118044
PINEAPPLE SPEARS 32oz
10/5/2020
–
–
68113118047
RED GRAPES 10oz
10/4/2020
–
–
68113118048
SEASONAL BLEND 10oz
10/3/2020
10/4/2020
–
68113118049
SEASONAL BLEND 16oz
10/3/2020
10/4/2020
10/5/2020
68113118050
SEASONAL BLEND 32oz
10/5/2020
–
–
68113118069
SEASONAL TRIO 32oz
10/3/2020
10/4/2020
10/5/2020