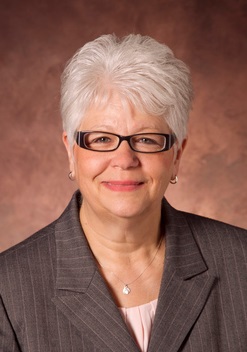 TERRE HAUTE, Ind – On Wednesday Indiana State University President Deborah J. Curtis delivered her fall address and emphasized the resilience, impact, and success of Sycamores — including a 99 percent placement rate for graduates.  
The address, delivered on video, noted that the placement rate counts graduates who were employed, went to graduate school, or entered the military. The average starting salary for ISU graduates is $57,593.  
"ISU was one of the first universities to fully engage in First Destination surveys and each year we've proved that the ISU experience is worth it," Curtis said. "The data for the Class of 2019 is astounding. … We know that COVID-19 will impact next year's data, but we also know that those earning an ISU degree will fare better than those without it."  
Curtis thanked students, faculty, and staff for adapting and persevering through the pandemic but said this is no time for Sycamores to let down their guard against COVID-19.  
"It is during these times that we as Sycamores recognize our strength and resilience," she said.  "We will survive and we will thrive."  
While noting that ISU's Sesquicentennial celebration ends later this semester, Curtis said renovation projects help make the university's future bright.  
A $50-million renovation of Hulman Center will be finished next month, Curtis said, and an $18-million renovation of Drieser Hall is scheduled for completion in 2021.  
Curtis addressed the unrest in society by reminding viewers that "it is in ISU's cultural DNA to be inviting, to be welcoming, and to be encouraging to one another."  
She discussed an action plan titled "Advancing Inclusive Excellence" that was the result of many hours of listening during the summer and fall by top university leadership. The plan includes numerous initiatives and directives. 
"The action plan," Curtis said, "is based on the university's renewed commitment to inclusion and the shared desire of Sycamores to provide a safe and welcoming environment that celebrates diversity and prioritizes meaningful inclusive action."   
Curtis and Jeff Taylor, chair of ISU's Board of Trustees, who spoke at the start of the video, discussed challenges that face ISU and other universities. Those include continued on-campus operation during the pandemic and the demographics of Indiana signaling a decline in high school graduates in the coming years.  
Said Taylor: "We're strong, we're challenged, but we're capable and most importantly, we're extremely dedicated to the success of our students, our faculty and our staff."