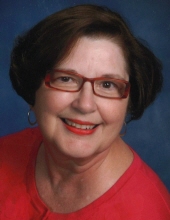 Diane C. Braden, 75, of Brazil, passed away at Gibson Family Center for Hospice Care on October 7, 2020 following a battle with COVID.
Diane was born on March 15, 1945, in Brazil, the daughter of Herman and Betty (Damm) Kitch. She graduated from Brazil High School with the class of 1963. Following high school she married Jack Braden. She worked as a Human Resource Manager for Commercial Solvents for several years.
Diane has been blessed with many kind and loving friends and family. She loved giving to others and being involved with social groups. She was very active with the Delta Theta Tau sorority and United Way's Power of the Community. She was a lifetime member of the First Presbyterian Church of Brazil. She was a dedicated "Gran" to her two grandsons Braden and Tyler.
She was preceded in death by her parents Herman and Betty Kitch; her husband Jack Braden; a sister Janice Willey; sister-in-law Phyllis Modesitt.
Survivors include her daughter Amy Timberman and husband Brian; grandsons Braden Timberman and Tyler Timberman; sister-in-law Brenda Gurley; brother-in-law Steve Braden and a nephew Jim Willey as well as many special friends – way too many to mention.
Visitation will be at Lawson – Miller Chapel 1702 E. National Ave. Brazil, Indiana 47834 on Friday, October 9, 2020 from 4-8pm. Services will be at the funeral home on Saturday, at 2:00pm with Pastor Gary Scroggins officiating. Burial will follow at Clearview Cemetery. Visit www.lawson-millerchapel.com to light a candle in her memory.
Donations may be made in her memory to the Jack and Diane Braden Endowment Fund c/o Wabash Valley Community Foundation 200 South 8th St. Terre Haute, Indiana 47807.
At the family's request masks should be worn.