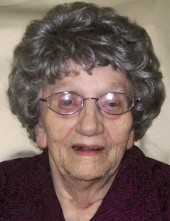 Ann R. Hummel, 95, lifetime resident of Clay City, Indiana, passed away on October 15, 2020 at Shakamak Good Samaritan Center where she had been a resident for eight years.
She was born in Clay City, Indiana the daughter of Clarence and Cletus (Miller) Tiefel. Ann graduated from Clay City High School with the class of 1943. She began working as a bookkeeper at the Clay City Farm Bureau Co-op. There she met Harlan Hummel whom she married on September 12, 1948. He preceded her in death in 1988. Ann was a devoted, hard working mother and housewife. After her husband retired, she went back to work as a cook in various dorms at Indiana State University. She and her husband also operated Hummel's Market, which their son still operates. She enjoyed cooking, being an avid reader, gardening, and attending to her flowers. She was a faithful babysitter for her grandkids. Ann was a devoted member of the Clay City Presbyterian Church until it closed and joined with Clay City First United Church of Christ (formerly St. Peter's Reformed). There she was active in Sunday School, taking care of the church library, and with the Women's Fellowship. While they were still in operation, she volunteered at the Clay City Nutrition Site and with the Clay City Senior Citizens. She also served as chairperson for the Clay County Farm Bureau Flower Show. Very near and dear to her heart was volunteering at the REIN Center Library.
She was preceded in death by her parents Clarence and Cletus Tiefel; her husband Harlan Hummel; grandsons: John Hyatt and Jordan Hummel; and a brother John Tiefel.
Survivors include her children: Cathy Collins and husband Randy, Nancy Hyatt and husband Dean, Vonda Hummel, Alan Hummel, and Claudia Moss and husband Larry all of Clay City; grandchildren: Jeff Hyatt and wife Shelly, Ross Hyatt and wife Kelly, Cheri Harris and husband Craig, Britney Harris and husband Eric, Lindsey Moss, Landry Moss and wife Lizzie, Logan Roembke and husband Marty, Lanae Moss and fiancé Jordan Prindiville, Josh Hummel and wife Brandi, and Macy Pearce and husband Eli; great-grandchildren: John (Emily) Hyatt, Emily Hyatt, Colin Harris, Caleb Harris, Chloe Harris and Catie Harris, Emma Hyatt, Tyler Martin, Rylee Hummel, Emily Moss, Linden Moss, Joshiah Moss, Aliza Roembke, Lela Ann Roembke, and twin boys due in February; a sister-in-law Nadine Tiefel, as well as many extended family members and friends.
Private service will be held at the Clay City First United Church of Christ with burial to follow at St. Peter's Cemetery.
REIN Center Library c/o Belinda Long 1444 East County Road 500 South Clay City, Indiana 47841 or the First United Church of Christ 6414 County Rd 300 East, Clay City, IN 47841.
II Timothy 4:7 "I have fought a good fight, I have finished my course, I have kept the faith."
To plant a beautiful memorial tree in memory of Ann R. Hummel, please visit our Tribute Store.