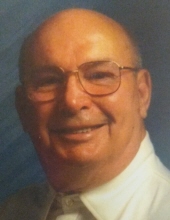 Bernard L. Heck, 94 of Brazil, passed away April 2, 2021 at Union Hospital. He was born January 20, 1927 in Terre Haute, the son of Michael and Eva Raisner Heck. He graduated from Gerstmeyer High School and then join the U.S. Navy. He served his county from 1944-1946.
On June 25, 1948 Bernie was united in marriage to Donna Rosebraugh Heck. Bernie worked for Unisys on business and banking equipment as a system technician.
Bernie was a member of the American Legion Post #2 in Brazil, and the VFW #972 in Terre Haute. He was also an active member of the Masonic Lodge #541, as a 32nd Degree Mason, and a member of the Scottish Rite, Valley of Terre Haute. He attended Staunton Christian Church and currently attended Cloverland Gospel Church.
Survivors include his daughter, Becky Davies, and husband Mike of West Terre Haute; granddaughter Michelle Goodwin and husband Mike; great-grandchildren Macee Goodwin and Chase Goodwin; one sister Betty Loveday of OK and many close neighbors and friends.
He was preceded in death by his Parents, Mack, and Eva Heck; one brother Bobby Heck; his wife Donna Heck and a grandson Darren Davies.
Services will be Wednesday at 1:00pm at French Funeral Home with Pastor Scott Golembecki officiating. Burial will follow at Roselawn Memorial Park in Terre Haute, with Military graveside rites. Visitation will be Tuesday from 5-7 with Masonic services at 7:00pm. Donations may be directed to the Masonic Home, 525 N. Illinois St. Indianapolis, IN. 46204 or to the Shriners Hospital for Children, 4400 Clayton Ave. St. Louis, MO 63110. Post a note of condolence at www.frenchfuneralhome.com