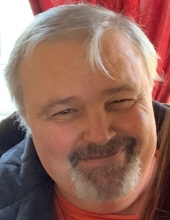 Steven Wayne McCullough, 54, of Brazil, Indiana passed away at Union Hospital on May 6, 2021.
Steve was born on January 14, 1967, in Terre Haute, Indiana, the son of William and Pauline (Ornduff) McCullough. He graduated from Northview High School with the class of 1985. Following high school he worked for Gartland Foundry, as a truck driver for Snyder and Underwood Trucking, and most recently as a laborer through the Labor Hall 204 in Terre Haute. When he wasn't working he enjoyed spending time out doors hunting, fishing, camping, attending auctions, and "collecting".
He was preceded in death by his mother Pauline McCullough.
Survivors include his father William "Bill" McCullough; son Brandon McCullough and fiancé Marah Hay; a daughter Alysen McCullough (Shawn Rance); grandchildren: Devynn McCullough, Pavin Ring, and Liam Hay; a brother Bill McCullough and wife Becky; a sister Laura Wright and husband Brian as well as several extended family members and friends.
Cremation services have been entrusted to French Funeral Home, in Brazil. A celebration of life will be held at a later date.
Visit www.frenchfuneralhome.com to light a candle in his memory.