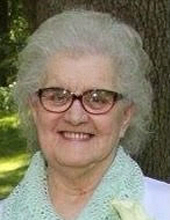 In the late hours of June 6, 2021, Phyllis J. Siples passed away after a short stay at Cloverleaf Healthcare and was greeted into Heaven.
Phyllis was born on April 29, 1941 to the late James and Eva (Vanatti) Zentko and married the late Delbert Siples on November 6, 1961. She graduated from Van Buren High School in 1959. Phyllis spent over twenty years working at Cloverleaf Healthcare until retiring in April 2021. She has been a longtime member of Ebenezer Church, but above all else, she took great pride in her family and was "Grandma" to all.
Phyllis is preceded in death by her beloved husband, Delbert, granddaughter, Brandee Siples, her sister, Frieda Miller, and her brother-in-law, Jack Whittington.
She leaves behind her sons Larry Siples (Anne) and Terry Siples (Pam); grandchildren Brett Siples (Maureen), Justin Siples (Debbie), Morgan Heath (Chris), and Ashlyn Siples; great-grandchildren Kasady and Raiden Heath. She is also survived by her brother, James Zentko (Vicky), her sister, Rita Buchholz (Steve), sister-in-law Wanda Whittington and brothers-in-law Jack Miller and Darrell Siples (Bonnie). Furthermore, she leaves behind many nieces, nephews, extended family and a vast amount of loved ones she considered family.
Friends are welcome to join Phyllis' family for graveside services led by Rev. William Price at Fairview Cemetery on Thursday, June 10, 2021 at 11:00am. In lieu of flowers please send donations to the Northview Marching Knights in honor of her granddaughter, Ashlyn Siples. Donations are able to be mailed to Northview High School or through the website at www.northviewband.org/make-a-donation.