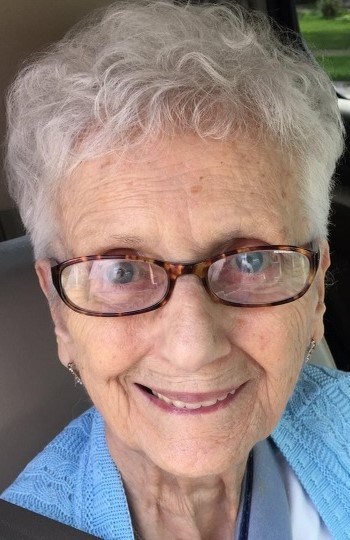 Mary Louise Morris passed away from a broken heart on Wednesday, October 13, 2021. She would have been 91 on the 28th of November. Her son and daughter-in-law had tragically passed earlier this summer.
Mary grew up in Terre Haute and on her family's farm in Marshall, Illinois. She was surrounded by eight aunts and uncles, many of whom were the same age as she and her sister, Louise. It was the heart of the Depression and Mary, Louise, and their Aunt Katherine shared a bicycle to school – one riding, one on the back, and one on the handlebars. They cleaned the one-room schoolhouse every day after school for the princely sum of a nickel a week. Each.
During WWII, Mary moved to Chicago to work in the factories, but found time to be the star "jammer" on Chicago's professional roller derby team. After the war, she returned to Indiana, and met and married Donald E. Morris, who had just returned from the occupational forces in Europe. Shortly after, their son, Donald Wayne Morris, was born. Mary was a fiercely protective mother, working hard jobs at Columbia Records and Pfizer to purchase the next guitar for the center of her universe, "Donnie Wayne."
Mary was her son's biggest supporter, from Little League, through his music career (Don is a member of the Vigo County Musician's Hall of Fame), and as a Vigo County Councilman. Her love for Don was only rivaled by the love for her grandchildren, Carson and Paul.
Mary was the epitome of our "Greatest Generation." She was tougher than nails, spoke her mind, and was protective of those she loved. She asked for nothing and gave everything. She will be sincerely missed by the people and animals who were fortunate enough to know her.
In lieu of flowers, contributions can be made to the Terre Haute Humane Society, for the medical care and well-being of local animals.
Visitation will be held on Saturday, October 16, 2021 from 11am -1pm. Funeral service will begin at 1pm will Pastor Jim Elliott officiating. Graveside committal will follow immediately after.
Mary will be laid to rest, next to her husband, at Roselawn Memorial Park.
Roselawn Funeral Home was entrusted with the arrangements. Online condolences can be made at www.roselawnfuneralhome.net.