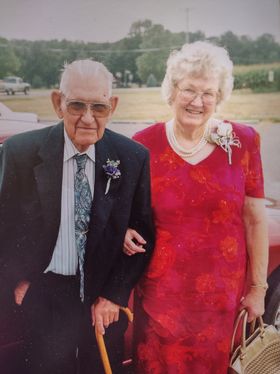 On May 23, 2022, Vivian Jordan Taiclet Copper heeded the call to "come home" to her Heavenly Father. She was a wonderful loving Christian, showing Christ's love by praying and caring for others, and by sharing cakes and homemade items such as crocheted doilies, afghans and name plaques. She crocheted table clothes and bedspreads. Most of all she was always there for her family. She read books and enjoyed the birds, garden, and flowers in her yard. For many years she worked at Kerns Service Station in Dugger and Sullivan IN as cashier and in the office. We will miss her pats and hugs, but we have many sweet memories to see us through.
Vivian was born on September 4, 1925, in Chatom Alabama. She is the daughter of Charles freeman Jordan and Flora Brunette (Mosely) Jordan. She was married to Elbert Ellis Taiclet on July 25, 1941. She was preceded in death by Elbert on May 8, 1986.Vivian later married Herschel Copper of Paxton, Indiana on September 18, 1993, and was preceded in death by Herschel on April 30, 2008. She is also preceded in death by her brother C.F. Jordan; and loving son Charles Elbert Taiclet in March of 1994.
Survivors include her sister Charlene (Jackie) Koen, Alabama, and her brother Frank Jordan, Louisiana, sister in law Mabel Taiclet, Kansas; children, Joseph Eugene (Glenna) Taiclet, Hobart, Indiana, Irma (Jerry) Kerns, Shelburn, Indiana, Jacquelin (Jim) Hutcheson, Gray, Georgia; Grandchildren, Tonya (Matt) Cyrulik, Wisconsin, Tracy (Curtis) Orlowski, Wisconsin, Troy Taiclet, Wisconsin, Paul Pugh, Chesterton, Joe Pugh, Chesterton, Jason (Dana) Gant, Indiana, Jessica (Ron) Carter, Tennessee, Ryan (Helena) Taiclet, Washington, Myra (Todd) Bedwell, Sullivan, Indiana, Aaron Kerns, Sullivan, Indiana, Gregory Kerns, Sullivan, Indiana, Amy (Tony) Lanier, Georgia, Calley (Birgit) Warren, Georgia, Chad Warren, Georgia; 26 great-grandchildren and 8 great-great-grandchildren; and many nieces and nephews.
Graveside services will be 11:30 am on Saturday May 28, 2022, at Center Ridge Cemetery in Sullivan Indiana, with Bill Sam Phegley officiating.
Online condolences can be left at: www.fitzpatrickfunerals.com
To send flowers to the family or plant a tree in memory of Vivian, please visit our floral store.