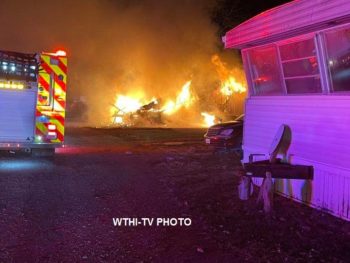 Clay Country, Indiana – On Wednesday November 16, 2022 at or around 8:32 pm the Clay County Sheriff's Office received multiple 911 calls of a structure fire in Northview Country Estates which is located at 3805 W SR 340 in Clay County Indiana.  One caller indicated that as she looked out of her window she noticed flames in her neighbor's home while the others reiterated that the trailer was fully engulfed with flames coming out of the roof.
As Deputies arrived first on scene they confirmed heavy flames and smoke had consumed the home.  Deputies were told two children were inside the home.  Although the trailer was fully engulfed, Deputies made entry into the home.  Unfortunately without proper protective gear the heat and smoke forced them to retreat.  Shortly thereafter, fire personnel began to arrive on scene and several more attempts were made to enter the home and rescue the children.  These attempts were ultimately unsuccessful as the fire was too intense.  The fire resulted in the death of 3 year-old Athena Holdbrook and 3 month old Aries Romine. An autopsy was performed by Forensic Pathologist Dr. Jimmie Smith on November 17, 2022. The cause of death for both children was determined to be smoke inhalation.
Detectives determined that an 11 year old aunt was also with the family however she was not in the home or injured as a result of the fire.  Detectives have also determined that no adult was present or in the home during the time of the fire.  Jerry Romine, father of Aries, was at work and Kodi Carpenter, the mother of both children, was across the street at a neighbor's home.  By the time that she became aware of the fire, she was unable to enter the home or retrieve her children.
The investigation is still ongoing however the Indiana State Fire Marshall's has preliminarily determined the cause of the fire was from an electrical issue, potentially an electrical power strip.  It is not believed that any foul play or accelerates were used to start or enhance the fire.  Once the investigation is complete, a full report will be forwarded to the Clay County Prosecutor's Office for further review.