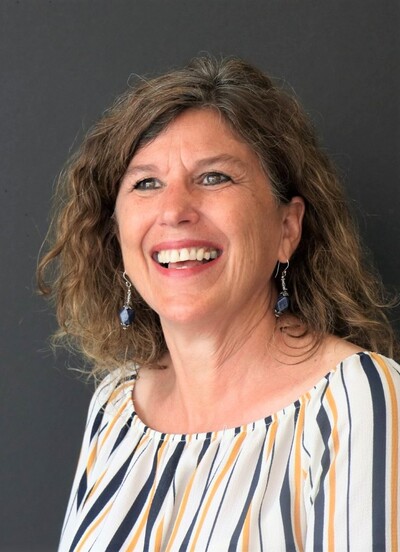 Gail Elizabeth Hayes, 58, of Terre Haute passed away Tuesday evening, January 24, 2023. She was an Associate Creative Director and Advertising Copywriter for Williams Randall Advertising for 33 years. Gail was born February 26, 1964 in Terre Haute to Dr. Joseph R. Siefker and Joyce Ann Siefker. Gail said of herself: "I'm a person who seeks joy. And actually, I never have to look far."
Survivors include her loving husband of 34 years, Timothy R. Hayes; their children, Jacob J. Hayes (Taylor) of Louisville, KY, Samantha G. Kiblinger (Robert) of Atlanta, GA, and William H. Hayes of Terre Haute; her sister, Ann K. Lambert (Richard) of Wrentham, MA; granddaughter, Riley Rose Hayes; brothers-in-law John E. Hayes (Sherrie) of Terre Haute and David E. Hayes (Linda) of Rosedale, IN; two uncles, Donald L. Siefker and Dr. Robert L. Siefker (Christina); and many nieces, nephews, and cousins. She was preceded in death by her parents.
Gail was a valedictorian of the Terre Haute North High School Class of 1982, where she also played French horn in the marching band and was drum major her senior year. She then graduated Cum Laude from Butler University in 1986 with a degree in Public and Corporate Communications where she was a proud member of Kappa Alpha Theta sorority. Her Theta sisters always occupied a special place in her heart.
She was a member of Trinity Lutheran Church during her early years and most recently, but was also a long-time member of Centenary United Methodist, where she and Tim raised their family. At Centenary, she taught Sunday school, youth group, and accompanied many soloists during special music, including Samantha on many occasions. As an active volunteer, she was a member of P.E.O. Sisterhood and Tri-Kappa, served on the boards of the Terre Haute Symphony and Community Theatre of Terre Haute. She volunteered her marketing, writing, and radio skills to help promote each Community Theatre season's lineup of shows. She also was a volunteer Big Sister with Big Brothers Big Sisters of Vigo County, Inc. Gail was recognized as one of 2020's Women in Business in the October issue of Terre Haute Living magazine. She loved her town fiercely and supported local events and businesses, especially coffee shops. Gail was an 11-year breast cancer survivor and volunteered with the local chapter of Susan G. Komen, with her main focus being to encourage women to be sure to have their annual mammograms. She was diagnosed with Glioblastoma on April 3, 2021 and gracefully battled the disease until her passing. She responded to her diagnosis by posting daily Bible scriptures on social media. She lived life like it was a musical and frequently filled the room with joy as she broke into song and dance. Why, she could even accompany herself on the piano!
She married Tim on August 20, 1988 at Central Presbyterian Church in Terre Haute. They enjoyed a two-week honeymoon to the northeast with their first destination being historic Belhurst Castle in Geneva, NY. Tim knew he had a winner when she agreed to also spend a night or two in Cooperstown, NY, and tour the National Baseball Hall of Fame. Little did she know just how many baseball and softball games she would attend during her lifetime and what the extent of her knowledge of the game would later be. Her favorite baseball play was the traditional 6-4-3 or 4-6-3 double play.
Being a child of two educators, education was so very important to Gail. She incorporated education into her role as the mother of Jacob, Samantha, and Will. She assisted them with homework, projects, etc., but also made sure that any vacation included a visit to a place where her kids would learn something. She loved being a mother so much that she extended her love and home to three exchange students. Her favorite place to be was around her kitchen table with all her family. Nothing pleased her more than waking up to a basement full of kids and fixing them a big breakfast.
As a lifelong learner, Gail embraced yesterday, today, and tomorrow. As one local writer texted, "Gail was a great person and friend, and the entire Terre Haute community is worse off with her passing."
Visitation is scheduled for Sunday, January 29th, 2023 from 12:00 – 4:00 PM at Callahan & Hughes Funeral Home, 605 S 25th St. Funeral services will be conducted at 10:00 AM, Monday, January 30th at Centenary United Methodist Church, 301 N 7th St, with Rev. Jimmy Moore and Rev. Mark Zirkle officiating. Burial will follow at Highland Lawn Cemetery.
If friends desire, in lieu of flowers, memorial contributions may be made to 1. Dana-Farber Cancer Institute: https://danafarber.jimmyfund.org/site/Donation2?df_id=2100&mfc_pref=T&2100.donation=form1&utm_source=dfh&utm_medium=button&utm_campaign=AGDFH031519&s_src=AGDFH031519&s_subsrc=AGDFH031519 2. P.E.O. Educational Loan Fund: https://donations.peointernational.org/peo-donation-elf 3. Community Theatre of Terre Haute: https://ctth.org/donate/ 4. Trinity Lutheran Church: https://trinityterrehaute.org/index.html . Funeral information and tribute may be found at www.callahanandhughes.com.