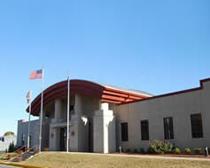 CLAY COUNTY, Ind. – Yesterday (Thursday) members of the group Faith in Indiana held a vigil on the steps of the Clay County Jail.
That facility is also used as an ICE Detention Center.
Protesters were there to show their support for the "Deferred Action for Childhood Arrivals" or DACA program which allows young illegal immigrants to stay in the U.S.
The program has been temporarily extended.
It was set to expire earlier this month on the 5th.
A contract between the United States Marshals Service and the Clay County Jail shows the county is paid $55 per ICE inmate, per day. They are also allocated $20 per hour, per guard, plus a mileage stipend when asked to transport ICE detainees.
The money goes to the Clay County general fund.
For more on ICE and the Clay County Jail, just click here.