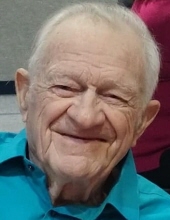 Owen E. Youngblood, 92, of Center Point left this Earth to be with his Heavenly Father on Monday, June 1, 2020.
He was born January 21, 1928 in Clay County, the son of Harvey Youngblood and Mildred LaSalle Youngblood. He graduated from Ashboro High School. Owen enlisted in the U.S. Army and served during peace time and was Honorably Discharged in 1946. Owen purchased the Center Point Lumber Yard in the late 70's and sold it in 2006.
Owen was united in marriage on June 3, 1950. This Wednesday would have been their 70th Wedding Anniversary. They have been members of the Center Point United Methodist Church for many years and Owen served as a Lay Leader. He also served for over 40 years as a Lay Pastor at many Methodist Churches throughout the Wabash Valley.
Owen was a man who never knew a stranger and had the "gift of gab". He enjoyed picking his blackberries, even at the age of 91. He was never one to sit in a chair, he was busy "Tinkering". He was known for his carpentry skills and was always willing to help with projects at the church. He was a problem solver, resourceful and could fix anything. He was the family foundation in Faith and was the one to join all in prayer during family dinners.
He was preceded in death by his parents, Harvey, and Mildred; siblings, Melvin Youngblood, Ferrel Youngblood, and Carol Youngblood.
Survivors include his wife Joan Youngblood of Center Point; Daughters, Loretta Francis of Worthington, Pauletta Woods (Jack) of Center Point, Amy Akers (Jerry) of Terre Haute, Jayne Frazier (Jason) of Brazil; sons, Michael Youngblood of MN, George Youngblood of Lafayette, Jon Youngblood (Jill) of Center Point; Grandchildren, Nichole, Eric, Parker, Katherine, Chandler, Livia and Ava; great-grandchildren, Michael, Mya, and Elisa; one sister Moyne Brown of Bloomington; brother Doyne Youngblood (JoAnne) of Center Point; many nieces, nephews and cousins.
Services will be held Saturday at 4:00pm at the Center Point Methodist Church with Rev. Doug Davis officiating. Burial will follow at the Center Point Cemetery with Military Honors provided by the Clay City American Legion and VFW. Visitation will be Saturday at the church from 1-4. In lieu of flowers, donations may be made to the Owen Youngblood Memorial Fund, C/O Center Point Methodist Church, P. O. Box #96, Center Point, IN. 47840. Post a note of condolence at www.frenchfuneralhome.com
To send flowers to the family of Owen E. Youngblood please visit our Tribute Store.