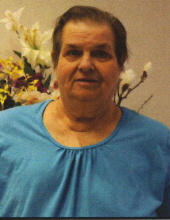 Martha Y. Norris, 71, of Terre Haute, Indiana, passed away at Union Hospital, on July 8, 2020 following an extended illness.
Martha was born on December 26, 1948, the daughter of Arlo and Agnes (Rose) Norris. Martha graduated from Ivy Tech University with a degree in computer programming. For many years, Martha worked as a manager with Long John Silvers in Terre Haute.
Martha was preceded in death by her parents Arlo and Agnes Norris.
She is survived by her 2 sons: Paul Norris (Nikki) of Terre Haute and Keith Norris (Amanda) of Brazil; grandchildren: Alex Smith, Austin Smith, and Jesseka Norris; siblings: Carl Norris, Ralph Norris, Sara Smith, Carol Hunt, and Jan Riddle as well as many nieces, nephews, and extended family member.
Graveside services were held at Highland Lawn Cemetery on Wednesday, July 15, 2020. Visit www.frenchfuneralhome.com to light a candle in her memory.
To send flowers to the family of Martha Y. Norris please visit the Tribute Store.